Roberts & Denny's Office Removals London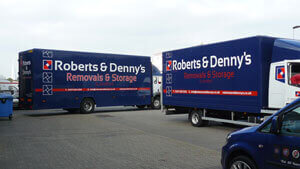 Roberts & Denny's are an office removal company offering all the services that you will need when moving a business.
Roberts & Denny's office movers have over 85-years experience with commercial office moves in London. We've helped hundreds of companies relocate to new premises across London for decades. Our team have the knowledge and expertise to carry out your office relocation while keeping company disruption low.
Your office relocation will need a team of professionals to manage the move and make sure company disruption is minimal. Securely delivering a range of commercial equipment between locations requires experience and a professional team. At Roberts & Denny's we work with business owners and managers to plan and tailor your commercial removal. This helps us to prepare the perfect plan for your business so that things go perfectly on move day.
Professional Office Relocation Services in London
Roberts & Denny's can oversee and manage all sizes of commercial removals including small office removals. Whether you're a small company or a larger corporation, we can cater for most businesses. Our pledge is that all your office equipment and documents will securely reach your new premises in the same condition, and on time.
For Commercial Office Moves – Call Us Today
Our team provide first class services to cover all aspects of a commercial move. As a large scale office removal company, we will tailor our services based on your requirements. As professional office movers, we will limit the amount of disruption to your working environment.
Thinking of moving offices? Looking for office removals in central London? If your business is located in London and you would like to find out more about our commercial moving services, please call us today on 020 7635 5332.
If you'd like us to call you about an office move then please feel free to contact us online.